Pregnancy Aid and Information Center
(908) 526-8121
Raritan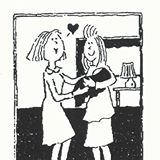 The PA&IC began 30 years ago by a group of women who respected life. It is a all VOLUNTEER organization dedicated to helping women in crisis pregnancies.
Social service agencies and self-referents are the usual sources of referrals. Women of all ages residing in Somerset, Hunterdon, Middlesex, and Union Counties are eligible.
Services provided
Include free pregnancy testing.
Education/guidance.
Access to medical care.
Legal advice.
Shelter home placement.
Community Resource and Adoption Information.
Referrals for Professional Counseling.
Maternity clothing, layettes, and baby equipment as available.
Parenting Support Groups are also available.
Eligibility
Women of all ages residing in Somerset, Hunterdon, Middlesex, and Union Counties are eligible.
Age Groups
Community Services

Basic Needs / Assistance

Community

Family & Support Services

Legal / Advocacy

Payment Options
Areas Served

Hunterdon County
Middlesex County
Somerset County
Union County
Last Updated: 11/15/17