Family Connections Support Group: Community in Crisis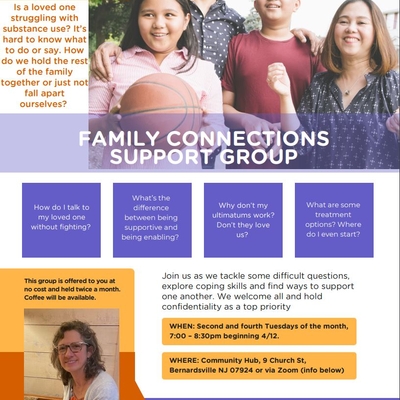 Join us as we tackle some difficult questions, explore coping skills and find ways to support one another. We welcome all and hold confidentiality as a top priority
Is a loved one struggling with substance use? It's hard to know what to do or say. How do we hold the rest of the family together or just not fall apart ourselves?
How do I talk to my loved one without fighting?
What's the difference between being supportive and being enabling?
Why don't my ultimatums work? Don't they love us?
What are some treatment options? Where do I even start?
Jane Coyle, LCSW, LCADC, CCS, a resident of Harding Township with extensive experience in family addiction counseling.
This group is offered to you at no cost and held twice a month. Coffee will be available
https://us02web.zoom.us/j/84039885113?pwd=Zi8yVTlhb0R4d0pHUm9VaktnMVBKdz09#success
Age Groups
Community Services

Family & Support Services

Payment Options
Areas Served

Hunterdon County
Morris County
Somerset County
Sussex County
Warren County
Last Updated: 04/12/22