Comfort Zone Camp
(201) 632-3520
Basking Ridge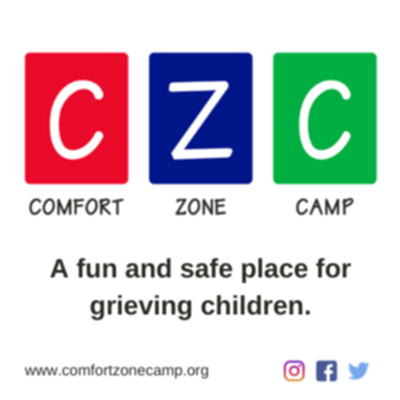 Comfort Zone Camp serves children who have lost a parent, sibling, primary caregiver, or friend. All programs are offered at no cost to families. CZC provides a safe, nurturing environment where kids can have traditional camp fun, while at the same time acquiring tools to help them cope with their loss. Since 1999, CZC has helped 21,000+ children.

Camp Activities
Includes games, arts & crafts, bonfire, and Healing Circle support groups where kids can connect with their peers.
The Impact
Campers leave the camp "bubble" transformed with a community, coping skills and new friends who "get it".
Upcoming Programs
April 22-24 at Camp Mason in Hardwick, NJ

Accepting campers 7-17, and has a parent program

May 20-22 at Camp Johnsonburg in Johnsonburg, NJ

In Partnership with A Little Hope Foundation for Suicide Loss
Accepting campers 7-17, young adults 18-25, and has a parent program

August 5-7 at Camp DeWolfe on Wading River, NY

In Partnership with Brave of Heart Fund for COVID loss
Accepting campers 7-17, young adults 18-25

Sept 9-11 at Camp Mason in Hardwick, NJ

In Partnership with Brave of Heart Fund for COVID loss
Accepting campers 7-17 and has a parent program

October 21-23 at Camp Mason in Hardwick, NJ
2022 New Jersey Camps Flyer: https://comfortzonecamp.org/wp-content/uploads/2021/12/2022_CZC_Programs_NJ.pdf
Virtual Support Group for COVID Loss: https://comfortzonecamp.org/wp-content/uploads/2022/03/CZC_TBOHF_VirtualSupportGroups_Flyer.pdf
Refer a camper family here: https://comfortzonecamp.campintouch.com/ui/forms/client/referral/Form
Learn more about sending your child to Comfort Zone Camp: https://comfortzonecamp.campintouch.com/v2/family/inquiryForm.aspx
Volunteer with Comfort Zone: https://comfortzonecamp.org/volunteers/
Eligibility
Death of a parent, sibling, guardian or friend.
Age Groups

Children
Adolescents
Adults

Community Services

Arts & Recreation

Basic Needs / Assistance

Community

Family & Support Services

Seasonal Programs

Health Services

Behavioral / Mental Health

Crisis / Safety

Treatment Services

Outpatient Services

Payment Options
Areas Served
Last Updated: 07/07/22