ST. ELIZABETH ANN SETON THANKSGIVING DAY DINNER
(908) 391-0316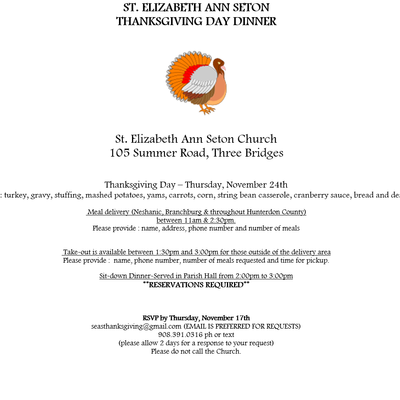 St. Elizabeth Ann Seton Church
105 Summer Road, Three Bridges
Thanksgiving Day – Thursday, November 24th
Menu : turkey, gravy, stuffing, mashed potatoes, yams, carrots, corn, string bean casserole, cranberry sauce, bread and dessert
Meal delivery (Neshanic, Branchburg & throughout Hunterdon County)
between 11am & 2:30pm.
Please provide : name, address, phone number and number of meals
Take-out is available between 1:30pm and 3:00pm for those outside of the delivery area
Please provide : name, phone number, number of meals requested and time for pickup.
Sit-down Dinner-Served in Parish Hall from 2:00pm to 3:00pm
**RESERVATIONS REQUIRED**
RSVP by Thursday, November 17th
[email protected] (EMAIL IS PREFERRED FOR REQUESTS)
908.391.0316 ph or text
(please allow 2 days for a response to your request)
Please do not call the Church.