Warren County Hot Air Balloons, Arts & Crafts Festival, at the Warren County Community College 2
Friday, September 23 -
Sunday, September 25, 2022
3:00 PM - 9:00 PM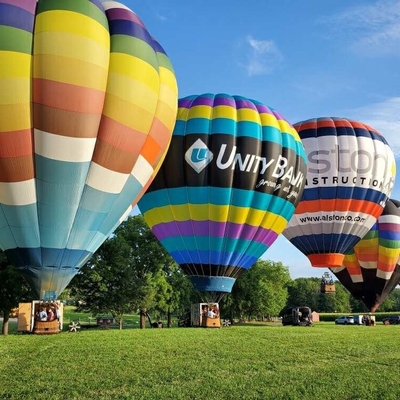 In 2001 a local balloon pilot, Fred Grotenhuis, approached the Fair about incorporating a Hot Air Balloon Festival at their County Fair. Fred, a life long resident of Harmony Township, New Jersey had fond memories of the Fair when he was growing up. He thought that as ballooning was an exciting activity in the area it would be a good draw to the Fair.
The first year there were about 15 balloonists that gathered, from Wednesday through Saturday.Over the years the number of pilots began to grow and they also began to show up for informal flights on Monday and Tuesday. So it wasn't long before there were nightly balloon launches and the Balloon Festival was expanded to the 6 days of the Fair.
In 2020, with the cancellation of the Fair itself, we moved the event temporarily to the Warren County Community College. The College has been a long time sponsor and over recent years started doing drone demonstrations to highlight their new Drone Program at the College.
The event was so successful that we added two additional events in 2021 and plan on continuing this as a tradition.
Let's Fly!!
Explore the area while visiting!
http://www.balloonfestnj.com/stay.html
Age Groups

Children
Adolescents
Adults
Seniors

Community Services

Arts & Recreation

Areas Served

Hunterdon County
Morris County
Somerset County
Sussex County
Warren County
Last Updated: 06/03/22