The Wizard of Iz: A Virtual Conversation About Suicide & Bullying
Thursday, January 20, 2022
7:00 PM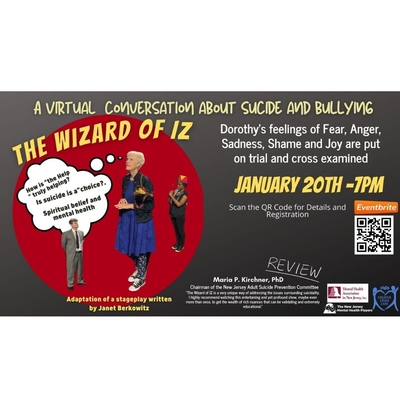 COMING JAN 20th 7pm!!!
THE WIZARD OF IZ: A Virtual Conversation About Suicide and Bullying

Creative Crisis Care in collaboration with the Mental Health Association in New Jersey, and the NJ Mental Health Players will be presenting a virtual conversation about suicide and bullying. Inspired by the staged play The Wizard of Iz, written and produced by Janet Berkowitz. In 2021 the play has been modified to accommodate a virtual audience. Participants will be encouraged to take part in an honest conversation about the sensitive topics of suicide and bullying.

THE PRESENTATION WILL BE PERFORMED IN THREE SCENES
OVERVIEW
Dorothy (Janet Berkowitz) has had enough! She feels like she can't go on and goes to sleep one day contemplating suicide. Dorothy wakes up in the mysterious Land of Iz. The Wizard (Nefertiti Rosa) and an Attorney (Michael Shoeman) inform her that she is not dead but will be part of a trial where her feelings will be examined and cross-examined.
SCENE 1
Will be about whether or not suicide is a "choice". As well as the effectiveness of mental health systems (How is "The Help" truly helping?) and an exploration of what it means to be "the Bully, Bullied, and Bystander".
SCENE 2
Dorothy's feelings of Fear, Anger, Sadness, Shame, and Joy are called to stand trial and cross-examined. The audience will be encouraged to participate in a discussion about emotional awareness and its importance to the healing process.
SCENE 3
Explores the element of spiritual belief and its place within mental health systems. Dorothy visits the past before incarnating on Earth and told she will experience suicidal ideation during her lifetime. Audiences will be encouraged to explore and discuss what has worked and not worked in their own healing process.
This presentation is open to the public. Your feedback is welcomed and encouraged. Parents use your own discretion. Mental health resources and information will be provided.

RAVE REVIEW
Maria P. Kirchner, PhD
Chairman of the New Jersey Adult Suicide Prevention Committee
"The Wizard of IZ is a very unique way of addressing the issues surrounding suicidality. I highly recommend watching this entertaining and yet profound show, maybe even more than once, to get the wealth of rich nuances that can be validating and extremely educational."
| | |
| --- | --- |
| Age Groups | |
| Health Services | Crisis / Safety |
| Payment Options | |
| Areas Served | |
Last Updated: 01/10/22