It's OK to not be ok...What are you going to do about it?
Wednesday, October 12, 2022
6:00 PM - 8:00 PM
Flemington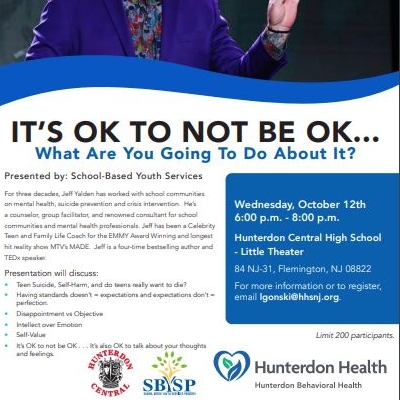 Presented by: School-Based Youth Services
For three decades, Jeff Yalden has worked with school communities on mental health, suicide prevention and crisis intervention. He's a counselor, group facilitator, and renowned consultant for school communities and mental health professionals. Jeff has been a Celebrity Teen and Family Life Coach for the EMMY Award Winning and longest hit reality show MTV's MADE. Jeff is a four-time bestselling author and TEDx speaker.
Presentation will discuss:
Teen Suicide, Self-Harm, and do teens really want to die?
Having standards doesn't = expectations and expectations don't = perfection.
Disappointment vs Objective
Intellect over Emotion • Self-Value
It's OK to not be OK . . . It's also OK to talk about your thoughts and feelings.
200 Person limited participation.
Age Groups
Community Services

Community

Health Services

Behavioral / Mental Health

Crisis / Safety

Areas Served
Last Updated: 09/09/22