Empowering Parents as Advocates for their Children
Wednesday, January 26, 2022
6:00 PM - 7:30 PM
Washington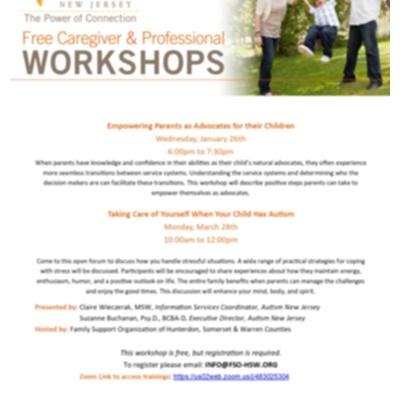 When parents have knowledge and confidence in their abilities as their child's natural advocates, they often experience more seamless transitions between service systems. Understanding the service systems and determining who the decision makers are can facilitate these transitions. This workshop will describe positive steps parents can take to empower themselves as advocates.
Presented by:
Claire Wieczerak, MSW, Information Services Coordinator, Autism New Jersey
Suzanne Buchanan, Psy.D., BCBA-D, Executive Director, Autism New Jersey
Hosted by: Family Support Organization of Hunterdon, Somerset & Warren Counties
This workshop is free, but registration is required.
To register please email: [email protected]
Zoom Link to access trainings: https://us02web.zoom.us/j/483025304
| | |
| --- | --- |
| Age Groups | |
| Payment Options | |
Last Updated: 01/13/22