Books, Balls & Blocks
Thursday, September 8, 2022
5:00 PM - 7:00 PM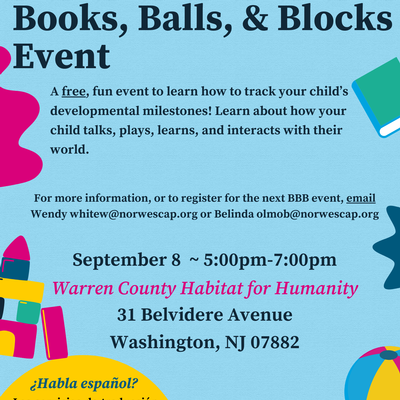 Join this free fun event to learn how to track your child's developmental milestones! Learn about how your child talks, plays, learns and interacts with their world.
Register by email [email protected] for September 8th event at the Warren County Habitat for Humanity located at 31 Belvidere Avenue in Washington, NJ. from 5:00 p.m. to 7:00 p.m.
Habla espanol?
Los servicios de traduccion estan disponibles a pedido para esta reunion. Coumiquese con SLoan por correo electronico a [email protected] para solicitar.
Age Groups
Community Services

Community

Family & Support Services

Health Services

Medical

Payment Options
Areas Served
Last Updated: 08/03/22