Art Education as a Tool in The Construction of a Symbolic World and The Elaboration of Subjectivity
Thursday, January 20, 2022
1:00 PM - 2:59 PM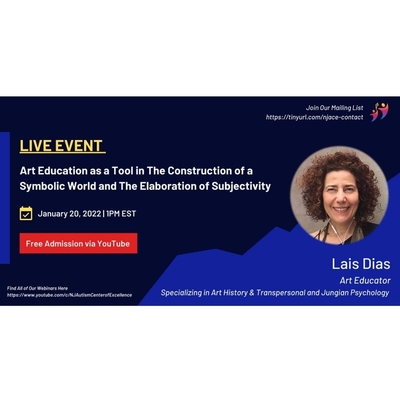 Currently, we are captured by the empty and dystopian images of the digital universe, where the disenchantment with the world and its isolationism makes us unable to live in a symbolic world. Art education, structured in artistic observation and in the understanding of the creative process, both anchored in sensitivity and reflection, helps in the construction of a personal symbolic world and, consequently, accelerates the process of body and psyche integration.
Speaker Bio:
Lais Dias has majored in Architecture and Urban Design with specialization in Art History and Transpersonal and Jungian Psychology. She has been working as an art educator for children with cerebral palsy, illustrating children and youth books as well as producing her own artwork.
Lais recorded a three-year project to teach art and creative process to cerebral palsy students at AACD Lar Escola - São Paulo, Brazil. The link to the documentary can be found here: https://vimeo.com/412044670
FAQs:
Q: How can I subscribe to NJACE's mailing list?
A: https://tinyurl.com/njace-contact
Q: I cannot attend the live session, how can I watch this at a later time?
A: All NJACE webinars will remain accessible on our YouTube channel. The link to our channel is below.
https://www.youtube.com/c/NJAutismCenterofExcellence/videos
Q: I cannot find the link to join the live event, where is the link located?
A: On this Facebook event page, under "Details", go to the "Online: YouTube" section. Click the YouTube text, a new tab will open with the event.
Q: Will there be an opportunity to ask questions?
A: All NJACE webinars are interactive, we encourage attendees to ask questions using the live chat board.
In order to ask a question in the live chat, you will need to be logged into a YouTube account.
Q: What is the cost to attend this event?
A: This is a free event, there is no cost.
| | |
| --- | --- |
| Age Groups | |
| Community Services | Education |
| Health Services | Intellectual and Developmental Needs |
| Payment Options | |
| Areas Served | |
Last Updated: 01/03/22