7th Annual MOOve for Midland
Saturday, May 21, 2022
3:00 PM - 5:30 PM
This event has already occurred!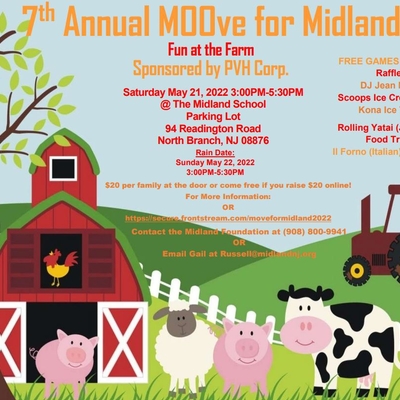 WHAT: 7th Annual MOOve For Midland - Fun at the Farm! Sponsored by PVH Corp.

WHERE: The Midland School Campus - 94 Readington Road - North Branch, NJ 08876

WHEN: Saturday, May 21 from 3 to 5:30 PM (Rain Date: Sunday, May 22 from 3 to 5:30 PM)

FREE Games + Prizes! All activities will adhere to safety and social distancing protocols. Attendees are strongly encouraged to wear a mask.

Other event features: Food Trucks and Vendors, DJ Jean Marie, dancing and instruction, contests to win prizes, and much more!

This family-friendly event is open to the public. Attendees must be 17 years or older or accompanied by an adult.

Admission to the event is $20 per family. BUT if you raise $20 or more through online or hand-copy pledge form fundraising, attendance is FREE for you and your family!

The fundraising part is simple: You create a fundraising page using this site (and share your page with family and friends) OR fundraise with a hard-copy pledge form* available at the School.

*If you use a hard-copy pledge form, please return it and the funds collected to the main office at The Midland School or mail to: The Midland Foundation - PO Box 5026 - North Branch, NJ 08876 by May 20. Please make checks payable to "The Midland Foundation."

Can't attend the event? DONATE to help us reach our goal of $65,000 for Midland's programs and services!

For general questions, help creating your page or sponsorship opportunities ($500 to $5,000) contact Gail at (908) 800-9941 or [email protected]
Age Groups

Children
Adolescents
Adults
Seniors

Community Services

Family & Support Services

Areas Served

Hunterdon County
Somerset County
Warren County
Last Updated: 04/26/22