DAWN Center for Independent Living
(973) 625-1940
Denville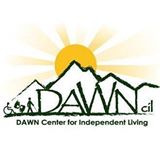 A nonprofit organization serving people with disabilities in the New Jersey counties of Morris, Sussex, and Warren. We are committed to a consumer-directed approach empowering the people we serve to define their needs and goals. DAWN Center for Independent Living promotes self-direction in order to create, expand, and implement equal-access opportunities by and for people with disabilities.
DAWN Center for Independent Living empowers people with disabilities who strive to take control of their own lives by:
Providing tools that encourage independence and self-advocacy;
Promoting public awareness of the rights, needs, and desires of individuals living with disabilities;
Offering community activities that create new experiences and opportunities;
Creating informed communities that advance the Independent Living Philosophy.
Services:
Information and Referral: We maintain comprehensive files on the services available to people with disabilities in the community and refer the individual appropriately.
Peer Support: Opportunities are made available to members through social or educational activities to meet and support other members. Members are encouraged to continue this support outside of the organizational activities.
Independent Living Skills Training: Educational seminars are offered periodically to members to enhance their knowledge of programs, services, benefits and entitlements that may assist them in their goal of living independently.
Advocacy: We facilitate opportunities for members to collaborate with other community groups, to advocate for systems change to enhance the lives of persons with disabilities.
Services available for youth, young adults and adults (see website).
Eligibility
Serves individuals with all disabilities in Morris, Sussex, and Warren counties.
Age Groups

Children
Adolescents
Adults
Seniors

Community Services

Arts & Recreation

Basic Needs / Assistance

Community

Education

Employment / Training

Legal / Advocacy

Health Services

Behavioral / Mental Health

Intellectual and Developmental Needs

Medical

Treatment Services

In-Community Services

Payment Options
Language Spoken

American Sign Language (ASL)

Areas Served

Morris County
Sussex County
Warren County
Last Updated: 07/18/19