Live Music & Performances Planned for Juneteenth Celebration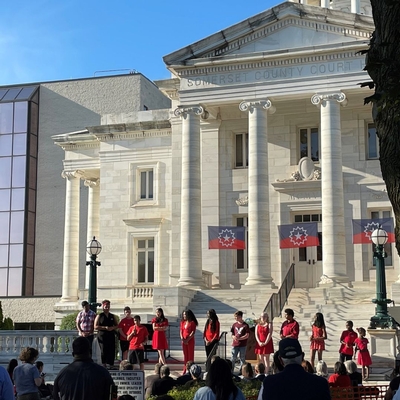 On Thursday, June 16, the Somerset County Board of County Commissioners will hold its second annual Juneteenth Celebration starting at 6 p.m. on the steps of the Somerset County Historic Courthouse, located at 20 North Bridge St., Somerville. The event will be held rain or shine.
Live performances will feature an eclectic blend of poetry, jazz, spirituals, and contemporary music, including international soprano Sonya Headlam performing "Lift Every Voice and Sing," and the Jonathan Ware Quartet premiering selections from "Talking Suite." Additional entertainment will include poetry performances by Olivia Altidor and Ssanyu Lukoma, and the premiere of an original Juneteenth dramatic skit, titled "To Be Free," written by playwright Ryan Kilpatrick and performed by local Somerset County youth.
Speakers will include Congresswoman Bonnie Watson Coleman, Commissioner Director Shanel Robinson and Mayor Dennis Sullivan.
Immediately after the Juneteenth celebration, Downtown Somerville will host a live performance by Alexander Simone and Whodat? on Division Street until 9 p.m. Simone is the grandson of legendary Nina Simone.
For more information, contact the Cultural & Heritage Commissioner at 908-231-7110, or visit our website at https://SoCoNJ.gov/Juneteenth.