SUMMER CONNECT (98456): Somerset County Therapeutic Recreation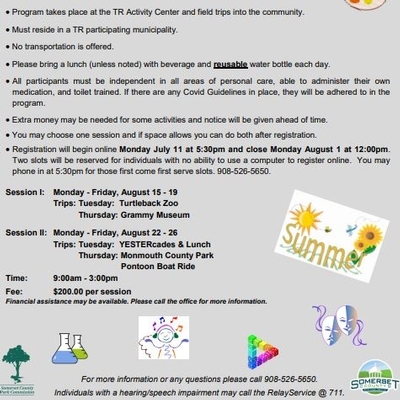 Back by popular demand! Each week will be filled with exciting activities including games, arts & crafts, cooking, fitness, current events, trips and more! The goal of this program is to provide leisure opportunities, foster independence, and enhance health and well-being. A schedule for the week will be sent prior to the start of the session.
http://www.somersetcountyparks.org/
Open to: Ages 17+ with a developmental disability.
Minimum of 10 participants.
Attendees must be able to function in a group setting of 10 participants to 3 staff.
Program takes place at the TR Activity Center and field trips into the community.
Must reside in a TR participating municipality.
No transportation is offered.
Please bring a lunch (unless noted) with beverage and reusable water bottle each day.
All participants must be independent in all areas of personal care, able to administer their own medication, and toilet trained. If there are any Covid Guidelines in place, they will be adhered to in the program.
Extra money may be needed for some activities and notice will be given ahead of time.
You may choose one session and if space allows you can do both after registration.
Registration will begin online Monday July 11 at 5:30pm and close Monday August 1 at 12:00pm. Two slots will be reserved for individuals with no ability to use a computer to register online. You may phone in at 5:30pm for those first come first serve slots. 908-526-5650.
Session I: Monday - Friday, August 15 - 19 Trips: Tuesday: Turtleback Zoo Thursday: Grammy Museum
Session II: Monday - Friday, August 22 - 26 Trips: Tuesday: YESTERcades & Lunch Thursday: Monmouth County Park Pontoon Boat Ride Time: 9:00am - 3:00pm Fee: $200.00 per session Financial assistance may be available. Please call the office for more information.