Family Series Presented by Kean Stage and Premiere Stages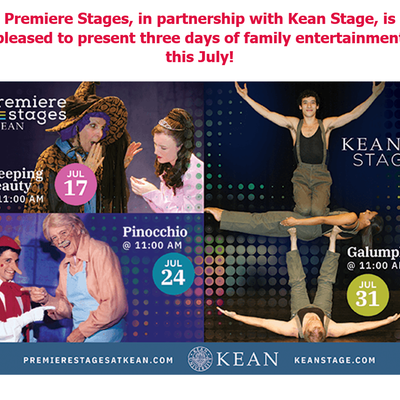 All Family Series shows will be performed outdoors on the Lawn at Enlow Hall on Kean University's East Campus. Chairs will be provided and seating will be arranged in pods with space between groups.
All tickets are $15.
Family Series ticket packages are also available!
Sleeping Beauty
Saturday, July 17 at 11:00 a.m.
Rain Date: Sunday, July 18 at 1:00 p.m.
Sleeping Beauty is the captivating tale of a Princess put under the spell of a slightly scary witch. Not until a Prince from a distant Kingdom discovers the sleeping castle is the evil spell broken. See the adventures of the court Jester, the King, Queen and the Pages in this sparkling musical fantasy of Sleeping Beauty.
Pinocchio
Saturday, July 24 at 11:00 a.m.
Rain Date: Sunday, July 25 at 1:00 p.m.
Who could resist the beloved story of the little wooden puppet whose dearest wish is to become a real boy? Lovingly told, this rendering of the timeless tale is woven with spirited music and comic fun. Join Pinocchio as he disobeys, follows the wrong leader and makes foolish choices. And root for him as he learns his lessons about honesty, bravery and love!
Galumpha
Saturday, July 31 at 11:00 a.m.
Rain Date: August 1 at 1:00 p.m.
Combining stunning acrobatics, striking visual effects, physical comedy and inventive choreography, Galumpha brings to life a world of imagination, beauty, muscle and merriment. The three performers create a sensory feast of images ranging from the ridiculous to the sublime, drawn together into a seamless whole, consistently bringing audiences to their feet.
For more information visit premierestagesatkean.com