Warren County Community College's Center for Adult Transition CAT
(908) 689-1118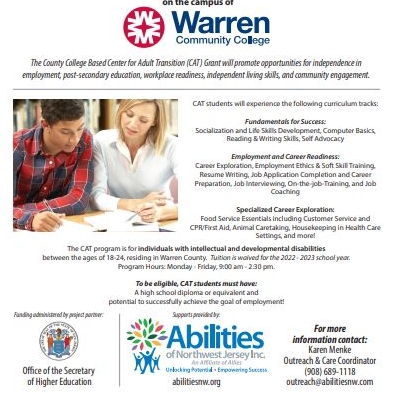 The County College Based Center for Adult Transition (CAT) Grant will promote opportunities for independence in employment, post-secondary education, workplace readiness, independent living skills, and community engagement.
CAT students will experience the following curriculum tracks:
Fundamentals for Success:
Socialization and Life Skills Development
Computer Basics
Reading & Writing Skills
Self Advocacy Employment
Career Readiness:
Career Exploration
Employment Ethics & Soft Skill Training
Resume Writing
Job Application Completion
Career Preparation
Job Interviewing
On-the-job-Training
Job Coaching
Specialized Career Exploration:
Food Service Essentials including Customer Service and CPR/First Aid
Animal Caretaking
Housekeeping in Health Care Settings
and more!
For more information contact: Karen Menke Outreach & Care Coordinator (908) 689-1118 [email protected]
Supports provided by: abilitiesnw.org
The CAT program is for individuals with intellectual and developmental disabilities between the ages of 18-24, residing in Warren County. Tuition is waived for the 2022 - 2023 school year. Program Hours: Monday - Friday, 9:00 am - 2:30 pm. To be eligible, CAT students must have: A high school diploma or equivalent and potential to successfully achieve the goal of employment!