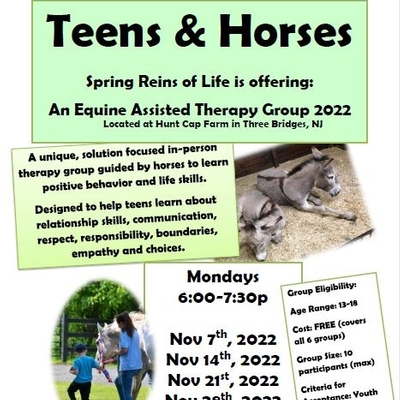 Spring Reins of Life is offering: An Equine Assisted Therapy Group 2022 located at Hunt Cap Farm in Three Bridges, NJ. This is a unique, solution focused in-person therapy group guided by horses to learn positive behavior and life skills. Designed to help teens learn about relationship skills, communication, respect, responsibility, boundaries, empathy and choices.
Mondays from 6:00 p.m. to 7:30 p.m.
11/7/2022
11/14/2022
11/21/2022
11/28/2022
12/5/2022
12/12/2022
Group eligibility:
Age ranges: 13-18
Cost: FREE (covers all 6 groups)
Group Size: 10 Participants max
Criteria for acceptance: Youth at risk of experiencing suicidal ideation or substance abuse.
For more information or to make a referral contact Erin Reyhan at 908-528-0979 or [email protected]