Keeping Children and Youth Safe While Connected: Online Safety Tips for Parents & Caregivers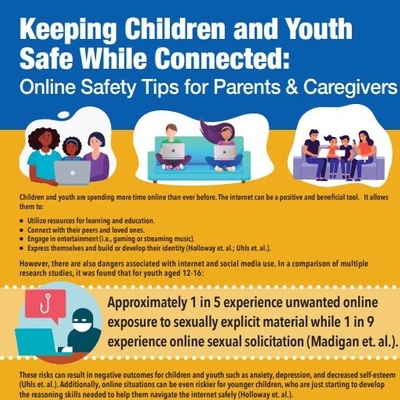 Children and youth are spending more time online than ever before. The internet can be a positive and beneficial tool. It allows them to:
Utilize resources for learning and education.
Connect with their peers and loved ones.
Engage in entertainment (i.e., gaming or streaming music).
Express themselves and build or develop their identity (Holloway et. al.; Uhls et. al.).
These risks can result in negative outcomes for children and youth such as anxiety, depression, and decreased self-esteem (Uhls et. al.). Additionally, online situations can be even riskier for younger children, who are just starting to develop the reasoning skills needed to help them navigate the internet safely (Holloway et. al.).
Most Common Online Risks for Children and Youth
Tips for Keeping Children and Youth Safe Online
Tips for Talking with Your Children about Online Safety
How to Get Help or Report Suspicious Activity
Additional Information/Resources to Explore