EmPoWER Youth Advisory Board Seeking NEW Members!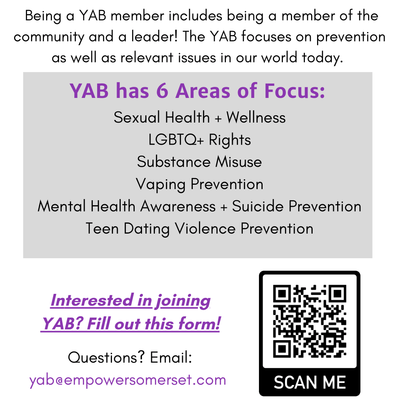 Being a YAB member includes being a member of the community and a leader! The YAB focuses on prevention as well as relevant issues in our world today.
EmPoWER Youth Advisory Board (YAB) provides Middle and High school students from central New Jersey with volunteer opportunities and leadership roles at the county, regional, and state level. Students from Hunterdon, Mercer, Middlesex, Monmouth, Ocean, Somerset and Union can apply to join Empower YAB. This group focuses on important topics related to youth health and wellness including: mental health, tobacco and vaping, substance misuse, sexual and reproductive health and wellness, and LGBTQ+ rights.
YAB has 6 Areas of Focus:
Sexual Health + Wellness
LGBTQ+ Rights
Substance Misuse
Vaping Prevention
Mental Health Awareness + Suicide Prevention
Teen Dating Violence Prevention
EmPoWER YAB is funded by The New Jersey Department of Health (NJDOH), Drug Free Communities (DFC) and The New Jersey Prevention Network (NJPN). EmPoWER YAB is involved in different campaigns offered to youth such as the NJDOH Statewide YAB as the central region chapter, the Safe Communities Coalition in which we represent Somerset County, and Incorruptible.Us as the Somerset County chapter.

We empower youth to become leaders, advocates, and ambassadors for public health programs. YAB members have the opportunity to make an impact statewide and nationally. They can positively influence their peers and make a difference in their communities.

EmPoWER YAB meets virtually once a month after school from 4:30 to 5:30 PM. YAB members are also offered community service hours, letters of recommendation, and references for employment.

EmPoWER YAB Requirements:
Must be a Middle or High School youth (grades 6-12)
Must be located in Hunterdon, Mercer, Middlesex, Monmouth, Ocean, Somerset, or Union County.
Must be willing to participate, voice your opinion, and work as part of a team


Thank you for considering EmPoWER YAB, we look forward to having you join our YAB.

~ Katie and Aarti (EmPoWER YAB Coordinators)