Hunterdon County Council for Young Children: Parent Meet Up
Thursday, June 2, 2022
10:30 AM - 11:30 AM
Lambertville
This event has already occurred!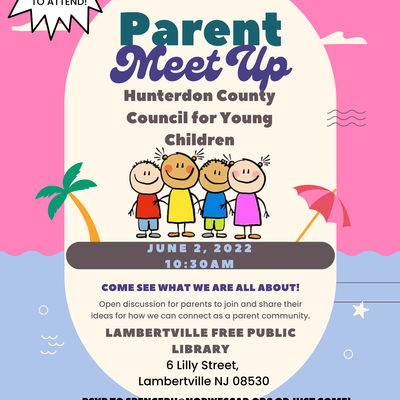 Hunterdon County Council for Young Children is supported through Norewescap and the CCYC for Warren, Hunterdon and Morris. Not only do they provide services to families needing education for their young children, but we also lead several strategies to improve community conditions. Their Child and Family Resource Services team provide quality regulation and training to childcare providers, ensuring that locations, where families send their kids each day, are safe and healthy places. Our County Councils for Young Children bring parents together to discuss issues that matter to them and their children, influencing community change.
Their next meeting is Thursday June 2, 2022 at 10:30 a.m. at the Lambertville Public Library and children are welcomed to attend.
RSVP to Heather at [email protected]
Age Groups
Community Services

Community

Family & Support Services

Payment Options
Areas Served

Hunterdon County
Morris County
Warren County
Last Updated: 05/24/22