First Annual Morris County National Coming out Day
Saturday, October 9, 2021
12:00 PM - 4:00 PM
Morristown
This event has already occurred!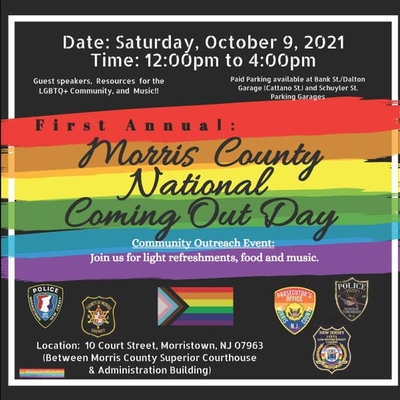 Morris County National Coming Out Day will take place from 12-4 p.m. Oct. 9 at 10 Court St., Morristown — between Morris County Superior Courthouse and the Administrative Building.
The event is a collaboration with LGBTQ+ liaisons from the Morris County Prosecutor's Office, Morris Township Police Department, Morris County Sheriff's Office and Morristown Police Department.
The event will feature light refreshments, food and music, as well as guest speakers and resources for the LGBTQ+ community.
Annually observed on Oct. 11, National Coming Out Day is intended to support LGBTQ+ individuals in "coming out." The foundational belief is that homophobia thrives in silence and ignorance, and that once people know they have loved ones in the LGBTQ+ community, they are less likely to maintain oppressive views.
The Morris County event is emblematic of law enforcement's efforts to bridge gaps with the LGBTQ+ community, especially in recent years.
| | |
| --- | --- |
| Community Services | Family & Support Services |
Last Updated: 09/24/21