EmPoWer Somerset Presents: Introduction to Sexual Orientation, Gender Identity & Gender Expression
Thursday, June 2, 2022
6:00 PM - 7:30 PM
This event has already occurred!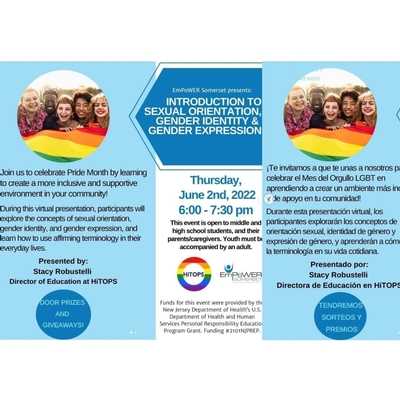 Join us for the virtual discussion, "Introduction to Sexual Orientation, Gender Identity, and Gender Expression," to celebrate PRIDE Month! It will be held on June 2nd, from 6:00-7:30pm. Bring your questions and register through the link in our bio!
Stacy Robustelli, Director of Education at HiTops will present to participants to explore the concepts of sexual orientation, gender identity, and gender expression, and learn how to use affirming terminology in their everyday lives.
Age Groups
Community Services

Community

Family & Support Services

Payment Options
Language Spoken
Areas Served
Last Updated: 05/18/22