Jewish Family Service of Somerset, Hunterdon and Warren
(908) 725-7799
Somerville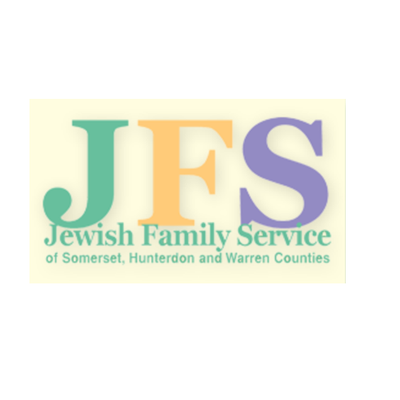 Jewish Family Service of Somerset, Hunterdon, and Warren Counties is a not-for-profit, non-sectarian social service agency whose purpose is to preserve and strengthen the quality of individual, family and community life based on Jewish values.
Services:
Family and Children Services: JFS is committed to serving the needs of children and families and offers an array of programs and services to help promote and strengthen those in need.
The Family Mentor / Senior Friendly Visitor Program is designed to provide in-home support, information and advocacy primarily to Somerset County Families. There is a special focus on families with children under the age of 10 and frail, isolated older adults. It addresses the needs of families that are feeling overwhelmed, by promoting strengths and capacities within the family unit by matching a trained community volunteer with each family.

Special Needs Program Supported by the Nancy L. and Arthur E. Lee Family Fund for Special Needs, Jewish Family Service offers the following programs and services to special needs children and their families.
Refugee Assistance: Jewish Family Service has a history of assisting émigrés from many countries including the former Soviet Union, Kosovo, Iran and Columbia. The émigrés receive help to acculturate them into the community by referring them to English as a Second Language (ESL) courses, introducing them to the community and providing mental health and career counseling, when necessary.
Senior Support Services: JFS has a long history of serving seniors and helping to reduce loneliness, isolation and the stress of aging.
Career Services: We offer comprehensive and individualized career services on a sliding scale basis to individuals seeking employment. These services include Career Counseling and our Job Seekers Support Group.
Ohr Tikvah / Jewish Healing Services: Ohr Tikvah (Light of Hope) Jewish Healing Program provides outreach, support and pastoral care to Jewish community members, particularly individuals who are not affiliated with a specific congregation.
Emergency Assistance:
Food Vouchers: Emergency food vouchers are available to individuals in our community who are financially eligible. Please contact us for more information and a confidential, private conversation.
Hebrew Free Loan Program: As of January, 2014 the very successful Hebrew Free Loan Program of Somerset, Hunterdon and Warren Counties has merged into Jewish Family Service. Hebrew Free Loans are made to help individuals become financially self-supporting, i.e. to purchase a car, make car repairs, medical needs, housing costs, educational expenses or business start-up costs.
Family Life Education: The agency makes speakers available to the entire community on a variety of mental health related topics. Articles on mental health issues are also often written by our staff and appear in local newspapers.
The Betty and Arthur Roswell Family Counseling Center
Jewish Family Service is a NJ State licensed community mental health outpatient provider.
We employ a highly qualified and dedicated professional staff in our counseling services program. Our counseling center provides individual, couples, child, family and group therapy.
We can help you address your problems, explore alternatives, develop new insights, and find solutions.
JFS accepts third party insurance. Services are also provided on a sliding fee scale. Payment arrangements can be made to accommodate your budget.
For a listing of current support groups visit: Jewish Family Services Support Groups
Eligibility
Insurances / payments accepted for outpatient services: •Most third-party insurances •Sliding Scale Payments *It is strongly encouraged to contact provider/agency directly to confirm respective services, eligibility criteria, and payment types*
Age Groups

Children
Adolescents
Adults
Seniors

Community Services

Basic Needs / Assistance

Community

Education

Employment / Training

Family & Support Services

Health Services

Behavioral / Mental Health

Intellectual and Developmental Needs

Treatment Services

In-Community Services

Outpatient Services

Payment Options

Private / Commercial Insurance
Self Pay
Sliding Scale / Payment Plans

Areas Served

Hunterdon County
Somerset County
Warren County
Last Updated: 04/10/19